Artificial intelligence in marketing as gamechanger in the new normal
Be smart, save time and do it like the majority of marketers - make use of artificial intelligence! In this article I'll tell you how to get started with Marketing Cloud Einstein to be ready for the new normal. Oh and by the way, AI also helps your business scale.
Implications of contact restrictions
Most of you migth already know that a large share of customers value a great user experience at least as much as the quality of a company's products or services. But did you also know that more than half of the customers are even willing to pay more for the absolute same product if you provide a great overall experience?! According to Salesforce Research that's the case:
84% of customers say the experience a company provides is as important as its products and services.
66% of customers are willing to pay more for a great experience.

(Source: "State of the Connected Customer", Salesforce Research, June 2019)
But did the buying behavior in retail change since contact restrictions and lockdowns took place?
An e-commerce study on behalf of Mastercard showed drastic changes in the german market! About half of the people said that they buy online more than before. A recently published follow-up study to the "State of Marketing" report by Salesforce Research also backs this insight.
Furthermore, other interesting facts that the Mastercard study highlighted can be used for your marketing strategy in combination with Marketing Cloud Einstein:
68% of online shoppers create wish lists and add items to the cart, but do not buy all items.
81% of online shoppers search for the best offers.

(Source: "E-Commerce-Study on behalf of Mastercard", Fly Research, May 2020)
More to that topic later on, let's dive into some basics first..
Current use of artificial intelligence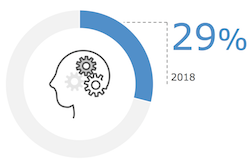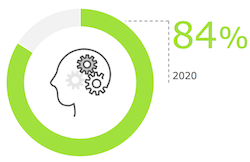 Artificial intelligence is gaining ground in marketing, as can be seen from the significant increase in its use since 2018. Two years ago not even one third of marketers were using any form of artificial intelligence. By today we see a stunning 84% of marketers currently using AI according to the "6th State of Marketing" report published by Salesforce Research earlier this year.
Internationally speaking the top use cases for AI in marketing according to Salesforce Research are:
Personalized experiences in individual channels
Improved segmentation / lookalike modeling
Surface data insights
As I mostly work for international companies headquartered in the DACH region, the specifics of the german market are also interesting for me. In contrast to the top use case globally the german market focuses more on gaining insights in data, but also takes the entire customer journey into account rather than individual channels only.
Your path to becoming the Digital Champion of your customers
In the following part of the article I assume you already did the fundamental work in Marketing Cloud in order to be ready to start using artificial intelligence. I consider the following steps as necessary foundation:
Integrate desired data sources
Ensure data quality
Segment based on interests, customer groups, demographics, etc.
Personalize using salutation, demographics, etc.
Having all this in place, you are in a good starting point for the upcoming phases - optimization and individualization.
Optimizing current communication
To get quick results without a lot of effort focusing on the optimization of current campaigns is what I suggest. Marketing Cloud Einstein allows to easily help you deliver your message
at the right time
through the perfect channel
with an optimized open likelihood
without overwhelming your customers with too many messages.
Engagement Scoring / Einstein Split
Einstein Engagement Scoring provides a convenient dashboard that shows all the necessary metrics as well as a so called model confidence. The model confidence tells you the likelihood of Einstein making the right decisions and having correct predictions for you. The more data Marketing Cloud collects the higher this confidence gets.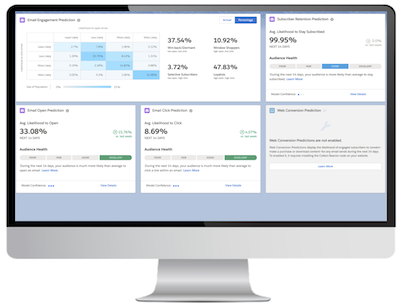 Some of the key metrics of this dashboard are the likelihood to:
open
click
stay subscribed
convert
Furthermore you can see the distribution amongst four different customer groups that are based on the open and click metrics:
win-back/dormant
selective subscribers
window shoppers
loyalists
These customer groups are a perfect foundation to do specific campaigns to help shift customers to other groups and ultimately increase revenue. So what can you do for each of these customers?
For individuals within the Win-back/Dormant segment you could do a lot of things including testing if alternate channels work better, asking for their preferences to be able to send the right message in the future, offer incentives to motivate them to get active again, etc.
For your selective subscribers - who are very likely to click on your call-to-actions if they open your emails, but don't read your communication that often - the first step is pretty clear: optimize the subject line to be more catchy and make sure it fits the preferences of your individual subscriber. A good idea is to do this based on recent purchases if applicable for your business and communication.
You want to get those window shoppers to finally take action and visit your landig pages, purchase your products or enroll to your services? The key to this is personalized content using customer data, intelligent recommendations based on recent purchaes, website visits, etc. as well as CTAs that stand out and provoke your subscriber's action. If that doesn't help, how about you throw in a targeted offer for that customer?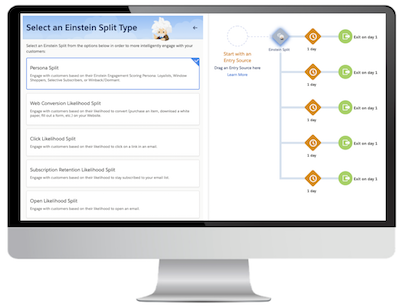 But what about your loyalists? They are already great, aren't they?! In order to further grow your customer base you sure like customers that are similar to your most loyal ones. That's why you should use them for lookalike audiences in your advertising campaigns, and in addition to that you can also implement a refer-a-friend bonus system or surprise your loyalists with a special offer or discount code. Furthermore, if you think your loyalists can't get enough of your marketing material you could try to slightly increase the email volume for that audience - but make sure to have content at hand that is relevant and not redundant!
To be able to use the information Einstein Engagement Scoring provides - even in 1:1 customer journeys - you have to possibility to use the "Einstein Split" activity in Journey Builder and create specific paths for every different scenario perfectly tailored to your customer.
Send Time Optimization (STO)
This feature allows you to do two things:
get insights in the best times to send across your audience
optimize the send time for each individual
In the STO dashboard you can check the perfect send times in a neat overview, but in my opinion the greatest thing about STO is the Journey Builder activity, that acts as a wait activity that pauses for the perfect time (or a defined maximum period) to deliver your email to your customer's device - and since the July 2020 release this is also available for push messages.
Engagement Frequency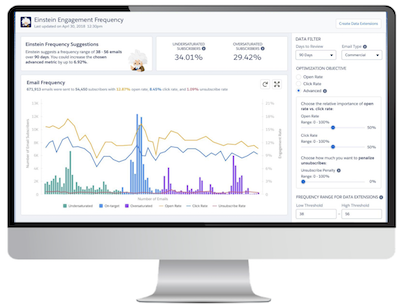 (Image Source: Salesforce Trailhead)
Not suprisingly, Einstein Engagement Frequency also comes with a clean and tidy dahsboard. It presents you with an overview of how many subscribers are under- or oversaturated with your current volume of communication along with the customers that receive the optimal number of emails.
In additon to seeing those insights, you can also adjust the weights of the critical metrics so you can focus on what's important for you. After those adjustments Marketing Cloud generates data extensions filled with your different groups of customers based on the level of saturation. With that information at hand you can intelligently modify your campaigns to
exclude oversaturated subscribers from your least-important communication and
do additional campaigns for your undersaturated audience.
Messaging & Copy Insights
Einstein Messaging Insights provides a great tool for anomaly detection as it evaluates your send's performance on a nightly basis and incorporates predicted target-values for key metrics. Should any email under- or overperform, you are notified and able to see which metric crossed the boundaries predicted by Einstein.
On the one hand these insights point out which sends should be analyized further to extract the reasons for the anomaly and transfer that knowledge to other campaigns. And on the other hand, they help find issues with your emails that you might even be caused by other systems - like the introduction of a "dark mode" in an email client that causes the click-rate to drop significantly because of readability issues. With the handy notification system in place you can react promptly without having to closely monitor every send and ongoing campaign manually on a daily basis.
Using natural language processing, Einstein Copy Insights provides information about which linguistic properties of the subject line have what influence on the open likelihood. Therefore you have a tool at hand that helps optimizing your future subject lines to get your customers to open your emails even more.
Further individualization of the customer experience
Further enhancements to your campaigns can be made by automatic content selection within an email, growing your audience using lookalikes, segmenting your customers based on behavior, and analysing social traffic (spam detection, sentiment analysis, influencer scoring, etc.).
However, in the the following section I'll focus on how to use the insights provided by the studies published by Salesforce Research and MasterCard, in order to further optmize your customer experience. For example, customers who save products but don't buy them can be reached using cart abandonment campaigns enhanced by artificial intelligence based product recommendations.
Email & Web Recommendations
Marketing Cloud provides you with a great set of behavior driven recommendations, that can be used on a website or within your emails. In order to make use of these recommendations a bit of work needs to be done in advance to be able to track web traffic on your website/onlineshop. Like with most web analytics tools, you need to add short JavaScript code snippets on your website that track:
page views
purchases
products added to the cart
products added to a wishlist
in-site search terms
and many more
Based on this data you can trigger campaigns (since the July 2020 release also using self-service configuration) and display recommendations in the style of "users who bought x also purchased y".
In order to make your cart abandonment campaign a success, consider the following best practices:
send two to three emails (within 24h, 2d, 1w - rough guidelines, varies by product type, industry, etc.)
include images of items in the cart (so your customers identify with the content)
add a coupon code that can be applied to the shopping cart or the entire product range to attract bargain hunters
add a clear CTA that directly links to the prefilled cart
add recommendations in order to cross-sell other products
advertise current or future promotions you are running
Further resources
I had the opportunity to publish an article about intelligent and crisis-resistant marketing with Salesforce Marketing Cloud and Einstein on the official Salesforce Germany blog. As I know, many of my readers don't speak german, I prepared an english transcript for you.
Furthermore, I spoke at an online event organized by ec4u, the company I currently work for, about the topics addressed in this article. To stream the recording or download the slides follow the respective links below.
Related documentation articles