I have been named a Salesforce Marketing Champion 2020!
I'm thrilled that Salesforce accepted me to their Champion program and named me a 2020 Salesforce Marketing Champion!
Yesterday, Salesforce announced the first class of Marketing Champions and I feel honoured to be part of this group of amazing Marketing Cloud, Pardot and Datorama experts.
Marketing Champions Program
For this program, Salesforce selected individuals who have achieved expert-level product knowledge and are active and involved leaders within the Traialblazer Community. As a Marketing Champion I'll have the opportunity to support members of the community to achieve marketing success with Salesforce, for example by speaking at community group events, as well as webinars and other Salesforce events.
To find out more about this program, check out Salesforce's official announcement and the Marketing Champions campaign page.
Class of 2020
Congratulations to my fellow Marketing Champions! I can't wait to get to know all of you!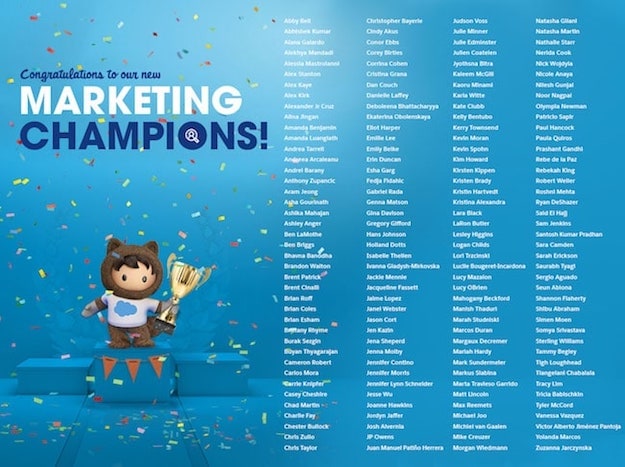 To enlarge the image, just click on it.
(Image source: Salesforce Blog)